Sometimes a lesser-known attraction ends up being a diamond in the rough.  We've listed some off-the-beaten-path Idaho favorites that deserve a look.  From chapels to memorials, wildlife to railways and hops to history, these special places contribute greatly to the fabric and experiences of northern Idaho.
Interested in moving to North Idaho? – Visit NorthIdahoWaterfront.com
Visit Beautiful Northern Idaho on Facebook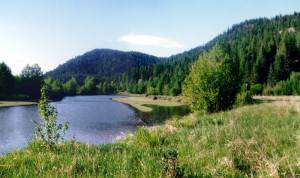 Wildlife enthusiasts or bird watchers shouldn't miss a visit to the Kootenai National Wildlife Refuge near Bonners Ferry.  The refuge hosts more than 230 species of birds, 45 species of mammals, 22 species of fish and more scenery than can be absorbed in a day. The refuge lies along the Pacific Flyway, attracting tens of thousands of migrating ducks, geese and swans each fall. With luck, one may spot big game such as elk, deer, bear or moose. The refuge also has a system of foot trails, including Myrtle Falls trail. This well-maintained trail is winding and steep but the view of the falls makes the hike worthwhile. Also in the area, the McArthur Lake and Boundary Creek Wildlife Management Areas offer more wildlife viewing opportunities.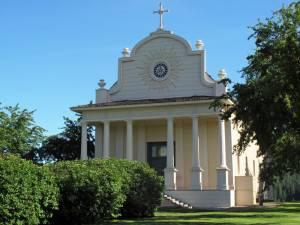 Coeur d'Alene's Old Mission State Park in Cataldo is home to the oldest building in Idaho. The Mission of the Sacred Heart, listed on the National Register of Historic Places, was constructed between 1850 and 1853 by Catholic missionaries and members of the Coeur d' Alene Tribe. Guests may also see the restored Parish House and historic cemetery. The world-class Sacred Encounters Exhibit includes artifacts from the Smithsonian and Museum of Natural History and tells the story of how Jesuit missionaries came to the interior Northwest at the invitation of the Coeur d' Alene and Salish tribes and the profound effects this sacred encounter had on both cultures.
Interested in moving to North Idaho? – Visit NorthIdahoWaterfront.com
The Bird Aviation Museum and Invention Center in Sagle showcases the contributions of aviators and innovators who have helped create modern technology and celebrates those individuals who have forever changed the way we live. The museum was founded by Dr. Forrest Bird, inventor of the medical respirator, and his wife Pam in 2007. Allow plenty of time to see Dr. Bird's personal collection of aircraft, invention displays, and flight exhibits. Be inspired! It only takes one person to change the world.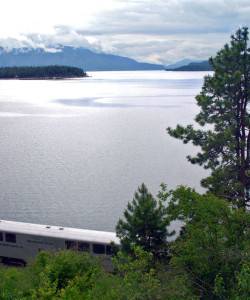 Sandpoint Rail Funnel.  Sandpoint has the great honor to be the site where the east and westbound railways in the northern states converge, better known as a railway funnel. For train-spotters and railfans, Sandpoint is the place to be with more than 50 trains chugging through town daily. Railfans from around the world travel to Sandpoint to watch and photograph the trains, some more than a mile in length, as they traverse the bridge over Lake Pend Oreille and through the forested mountains.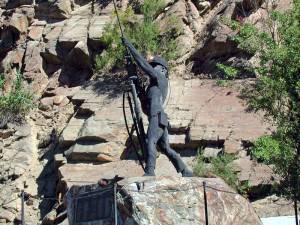 To learn about northern
Idaho's mining history, head to the towns of Wallace and Kellogg. The Wallace District Mining Museum's artifacts, models, photographs, paintings and displays of mining activity and techniques take you back in time and deep into the history of one of the most lucrative mining districts in the country.  In Kellogg, the Shoshone County Mining & Smelting Museum or (Staff House Museum)  occupies a two-story American-revival style house constructed in 1906 for a mining company executive. It has 12 rooms of exhibits, a gift shop and outdoor displays including a 73.5 ton Nordberg air compressor. Learn about the human cost of extracting the earth's riches with a visit to the Sunshine Mine Disaster Memorial in Kellogg.
Interested in moving to North Idaho? – Visit NorthIdahoWaterfront.com
Scenic Hiking Trails.  With the breathtaking scenery around Sandpoint, we are most fortunate to have hiking trails that offer access to some exceptional vistas. Bring a camera when hiking these two trails.
Mineral Point Interpretive Trail contours along Lake Pend Oreille about 14 miles south of Sandpoint near Garfield Bay with magnificent views across the lake to the Green Monarch Mountains. View the map and details at Forest Service Mineral Point Trail No. 82.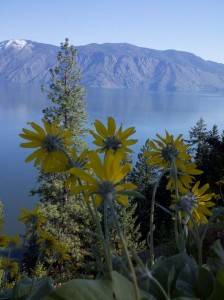 One of the closest and nicest hikes adjacent to Sandpoint, the Mickinnick Trail is a challenging trail that rises more than 2,000 feet in its 3.5-mile length (seven miles round-trip). The workout is worth it, affording splendid views as you climb through big granite features ending at a rocky knob commanding a view of Sandpoint, the Long Bridge, the Cabinet Mountains, and Lake Pend Oreille. Click to see the Forest Service map and elevation profile.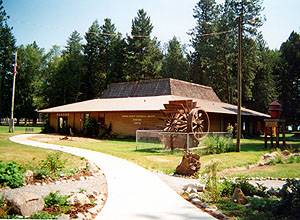 The Bonner County Historical Museum in Sandpoint has numerous displays including Native American artifacts, an extensive collection of Ross Hall photos, a pioneer kitchen and more. Exhibits tell the story of the longest residents of Bonner County – the Kalispell and Kootenai people – and how early residents interacted with the landscape to make a living at farming, logging, and mining.
Interested in moving to North Idaho? – Visit NorthIdahoWaterfront.com
Elk Mountain Farms north of Bonners Ferry grows hops for parent company Anheuser-Busch. The intricate system of poles and trellises is impressive, as are the vines that grow 20 feet tall. Harvest is in late August to early September. To view the field, drive north on Highway 95 to Highway 1 and turn left on Copeland Road. Drive to the Westside Road and go south for outstanding views overlooking the fields. The operation can also be seen from Porthill.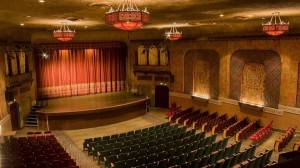 Sandpoint's historic performing arts center, the Spanish Mission style Panida Theater, has a rich winter season filled with concerts, plays, fine art films, and events. The Panida opened as a vaudeville and movie house in 1927 and is on the National Register of Historic Places. Then, as now, its name reflected its mission: to showcase great performers and performances for audiences of the PANhandle of Idaho.
Discover the fascinating history of the Coeur d'Alene region at the Museum of North Idaho, located at the front of Coeur d'Alene's City Park. Exhibits explore steamboats, railroads, communities, recreation, the U.S. Forest Service, the Coeur d'Alene Tribe, Farragut Naval Training Station, and the Ice Age Flood. Guests may also visit the Fort Sherman Chapel.  Built in 1880 by the U.S. Army, the chapel is Coeur d'Alene's oldest church, school, library and meeting hall. Scheduled historic walking tours of Fort Sherman Chapel depart from the Museum.
Interested in moving to North Idaho? – Visit NorthIdahoWaterfront.com
Windermere Coeur d'Alene Realty, Inc
1616 E Seltice Way | Post Falls | ID | 83854
Original Article Appeared on VisitIdaho.Org
Posted on October 8, 2019 at 4:16 am
Scott Shepard
Category:

Coeur d'Alene History, Idaho Fun Facts, Idaho History, Northern Idaho Destinations
Tagged

#beautifulnorthernidaho, #buyidaho, #CDAliving, #coeurdalene, #Idahorealtor, #Luxurybuyeragent, #luxuryrealestate, #Luxuryrealestateagent, #NorthIdahoWaterfront, #PacificNorthwest, #ScottSellsID, #WindermereCoeurdAlene
Experience all of the beauty Northern Idaho has to offer! One of the premier vacation destinations in the US, North Idaho is attracting tourists from all parts of the world looking to vacation among the vast trees, lakes, rivers, and wildlife. Because of this, right now is the perfect time to invest in in-demand, waterfront property.
Our team is excited to launch NorthIdahoWaterfront.com, an easy to use site featuring premier waterfront properties. Updated by the official Realtor®'s database every 5 minutes.  NorthIdahoWaterfront.com features the best lakefront, river frontage properties and waterfront lots available in Northern Idaho. It is the only site you will ever need!  You can save searches, and get daily email alerts of new listings, price changes, sold data, and market reports. Our Interactive Map Search allows you to view properties on a map or refine your search by drawing the boundaries around the area you desire.
—– Visit www.NorthIdahoWaterfront.com —
Once you find your utopia, please allow us to help you with the next steps.  You will have a hand-selected team of all-star agents, with years of experience, that will represent you on your waterfront purchase. Behind our talented team is Windermere Coeur d'Alene Realty, Inc.  Proud to have received numerous awards over the years including the Northwest Business Journal's "Best Of" Real Estate Office awards for the last 8 years!
In addition, when you work with our team, you help make an impact in children's lives!  Every time you complete a transaction with Windermere, we make a donation to the Windermere Foundation.
Windermere Coeur d'Alene Realty, Inc., and Windermere Hayden, LLC have made a sincere commitment to improving the lives of children, families, and neighbors in crisis through their volunteerism, monetary gifts, and the Windermere Foundation.
Thank you for visiting NorthIdahoWaterfront.com
Posted on October 6, 2019 at 5:23 pm
Scott Shepard
Category:

Coeur d'Alene, North Idaho Waterfront, Northern Idaho Destinations, Uncategorized
Tagged

#beautifulnorthernidaho, #buyidaho, #CDAliving, #coeurdalene, #dreamhome, #Idahorealtor, #lakefront, #luxuryagent, #Luxurybuyeragent, #luxuryrealestate, #Luxuryrealestateagent, #PacificNorthwest, #PremierHomes, #riverfront, #ScottSellsID, #waterfront, #Waterfronthomes, #Waterfrontliving, #WindermereCoeurdAlene