Sometimes a lesser-known attraction ends up being a diamond in the rough.  We've listed some off-the-beaten-path Idaho favorites that deserve a look.  From chapels to memorials, wildlife to railways and hops to history, these special places contribute greatly to the fabric and experiences of northern Idaho.
Interested in moving to North Idaho? – Visit NorthIdahoWaterfront.com
Visit Beautiful Northern Idaho on Facebook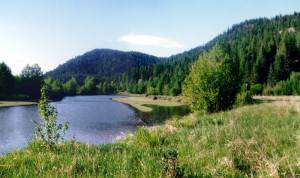 Wildlife enthusiasts or bird watchers shouldn't miss a visit to the Kootenai National Wildlife Refuge near Bonners Ferry.  The refuge hosts more than 230 species of birds, 45 species of mammals, 22 species of fish and more scenery than can be absorbed in a day. The refuge lies along the Pacific Flyway, attracting tens of thousands of migrating ducks, geese and swans each fall. With luck, one may spot big game such as elk, deer, bear or moose. The refuge also has a system of foot trails, including Myrtle Falls trail. This well-maintained trail is winding and steep but the view of the falls makes the hike worthwhile. Also in the area, the McArthur Lake and Boundary Creek Wildlife Management Areas offer more wildlife viewing opportunities.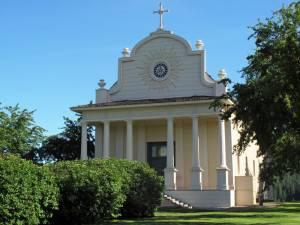 Coeur d'Alene's Old Mission State Park in Cataldo is home to the oldest building in Idaho. The Mission of the Sacred Heart, listed on the National Register of Historic Places, was constructed between 1850 and 1853 by Catholic missionaries and members of the Coeur d' Alene Tribe. Guests may also see the restored Parish House and historic cemetery. The world-class Sacred Encounters Exhibit includes artifacts from the Smithsonian and Museum of Natural History and tells the story of how Jesuit missionaries came to the interior Northwest at the invitation of the Coeur d' Alene and Salish tribes and the profound effects this sacred encounter had on both cultures.
Interested in moving to North Idaho? – Visit NorthIdahoWaterfront.com
The Bird Aviation Museum and Invention Center in Sagle showcases the contributions of aviators and innovators who have helped create modern technology and celebrates those individuals who have forever changed the way we live. The museum was founded by Dr. Forrest Bird, inventor of the medical respirator, and his wife Pam in 2007. Allow plenty of time to see Dr. Bird's personal collection of aircraft, invention displays, and flight exhibits. Be inspired! It only takes one person to change the world.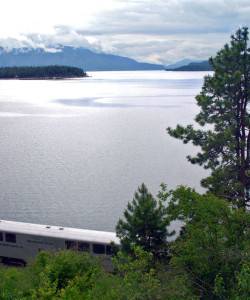 Sandpoint Rail Funnel.  Sandpoint has the great honor to be the site where the east and westbound railways in the northern states converge, better known as a railway funnel. For train-spotters and railfans, Sandpoint is the place to be with more than 50 trains chugging through town daily. Railfans from around the world travel to Sandpoint to watch and photograph the trains, some more than a mile in length, as they traverse the bridge over Lake Pend Oreille and through the forested mountains.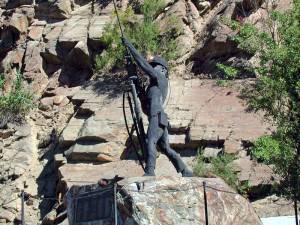 To learn about northern
Idaho's mining history, head to the towns of Wallace and Kellogg. The Wallace District Mining Museum's artifacts, models, photographs, paintings and displays of mining activity and techniques take you back in time and deep into the history of one of the most lucrative mining districts in the country.  In Kellogg, the Shoshone County Mining & Smelting Museum or (Staff House Museum)  occupies a two-story American-revival style house constructed in 1906 for a mining company executive. It has 12 rooms of exhibits, a gift shop and outdoor displays including a 73.5 ton Nordberg air compressor. Learn about the human cost of extracting the earth's riches with a visit to the Sunshine Mine Disaster Memorial in Kellogg.
Interested in moving to North Idaho? – Visit NorthIdahoWaterfront.com
Scenic Hiking Trails.  With the breathtaking scenery around Sandpoint, we are most fortunate to have hiking trails that offer access to some exceptional vistas. Bring a camera when hiking these two trails.
Mineral Point Interpretive Trail contours along Lake Pend Oreille about 14 miles south of Sandpoint near Garfield Bay with magnificent views across the lake to the Green Monarch Mountains. View the map and details at Forest Service Mineral Point Trail No. 82.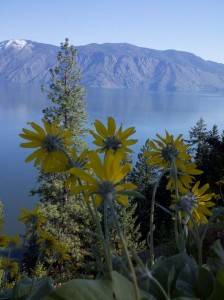 One of the closest and nicest hikes adjacent to Sandpoint, the Mickinnick Trail is a challenging trail that rises more than 2,000 feet in its 3.5-mile length (seven miles round-trip). The workout is worth it, affording splendid views as you climb through big granite features ending at a rocky knob commanding a view of Sandpoint, the Long Bridge, the Cabinet Mountains, and Lake Pend Oreille. Click to see the Forest Service map and elevation profile.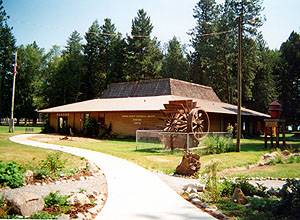 The Bonner County Historical Museum in Sandpoint has numerous displays including Native American artifacts, an extensive collection of Ross Hall photos, a pioneer kitchen and more. Exhibits tell the story of the longest residents of Bonner County – the Kalispell and Kootenai people – and how early residents interacted with the landscape to make a living at farming, logging, and mining.
Interested in moving to North Idaho? – Visit NorthIdahoWaterfront.com
Elk Mountain Farms north of Bonners Ferry grows hops for parent company Anheuser-Busch. The intricate system of poles and trellises is impressive, as are the vines that grow 20 feet tall. Harvest is in late August to early September. To view the field, drive north on Highway 95 to Highway 1 and turn left on Copeland Road. Drive to the Westside Road and go south for outstanding views overlooking the fields. The operation can also be seen from Porthill.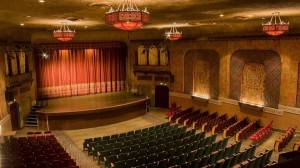 Sandpoint's historic performing arts center, the Spanish Mission style Panida Theater, has a rich winter season filled with concerts, plays, fine art films, and events. The Panida opened as a vaudeville and movie house in 1927 and is on the National Register of Historic Places. Then, as now, its name reflected its mission: to showcase great performers and performances for audiences of the PANhandle of Idaho.
Discover the fascinating history of the Coeur d'Alene region at the Museum of North Idaho, located at the front of Coeur d'Alene's City Park. Exhibits explore steamboats, railroads, communities, recreation, the U.S. Forest Service, the Coeur d'Alene Tribe, Farragut Naval Training Station, and the Ice Age Flood. Guests may also visit the Fort Sherman Chapel.  Built in 1880 by the U.S. Army, the chapel is Coeur d'Alene's oldest church, school, library and meeting hall. Scheduled historic walking tours of Fort Sherman Chapel depart from the Museum.
Interested in moving to North Idaho? – Visit NorthIdahoWaterfront.com
Windermere Coeur d'Alene Realty, Inc
1616 E Seltice Way | Post Falls | ID | 83854
Original Article Appeared on VisitIdaho.Org
Posted on October 8, 2019 at 4:16 am
Scott Shepard
Posted in

Coeur d'Alene History, Idaho Fun Facts, Idaho History, Northern Idaho Destinations
Tagged

#beautifulnorthernidaho, #buyidaho, #CDAliving, #coeurdalene, #Idahorealtor, #Luxurybuyeragent, #luxuryrealestate, #Luxuryrealestateagent, #NorthIdahoWaterfront, #PacificNorthwest, #ScottSellsID, #WindermereCoeurdAlene
William Tecumseh Sherman was a Union Army general during the Civil War who was both famous and infamous. In Georgia he ordered his troops to pillage, plunder and burn the countryside from Atlanta to the sea, and then told the people that he'd help them get back on their feet if they'd just give up the fight.
The New York Times called him "the grim reaper of the Union war effort."
Before all that, he was also a scourge to Native Americans in the West.
North Idaho's Premium Waterfront Homes
"The more Indians we can kill this year the fewer we will need to kill the next," he said, "because the more I see of the Indians the more convinced I become that they must either all be killed or be maintained as a species of pauper. Their attempt at civilization is ridiculous."
During an inspection tour in the Northwest, Sherman came to Coeur d'Alene in 1877 and camped at today's site of North Idaho College. He loved the scenery and recommended a fort be built there, called Camp Coeur d'Alene. It was renamed Fort Sherman in 1887.
History books tell a great deal about this military officer, whose career was punctuated by both genius and self-doubts.
Today, we'd call him bipolar. But despite wide mood swings, he became one the Union Army's ablest commanders during the Civil War.
Early in the war, he begged Lincoln not to give him a big command — feeling that he was unfit for such responsibility — requesting "extreme desire to serve in a subordinate capacity, and in no event to be left in a superior command."
Nevertheless, after Sherman did so well at the First Battle of Bull Run in 1861, Lincoln promoted him to brigadier general. Then when he was given command of Union troops in Kentucky and Tennessee — a job he didn't want — he started getting edgy, and asked to be relieved of command.
Historians have since speculated that he was suffering from depression or nervous exhaustion. Some newspapers at the time called him insane.
North Idaho's Premium Waterfront Homes
Shortly thereafter, he was reassigned to the Western Theater under Gen. Ulysses S. Grant, and following Sherman's victory at the Battle of Shiloh in 1862, the two generals — friends since West Point days — worked well together for the rest of the war.
In the summer of 1864, after Grant was promoted to general-in-chief of all Union armies, he put Sherman in charge of defeating Confederate Gen.Joseph E. Johnston's Army of Tennessee. (Johnston was soon replaced by Lt. Gen. John Bell Hood.)
Grant ordered Sherman to capture Atlanta, and then strike through Georgia — the Confederate heartland.
And strike, he did.
The siege of Atlanta started on July 22, and lasted four months in battle after battle.
Sherman came from a politically elite family and knew how politics worked and why politically the Atlanta campaign was important. Lincoln was up for re-election that year, and capturing Atlanta would boost northern morale and help get Lincoln re-elected.
Finally, on Sept. 2 the city surrendered, with the mayor asking for "protection to non-combatants and private property."
The Atlanta mayor's request was granted, but what followed was less charitable. On Nov. 15, Sherman began his infamous March to the Sea — sending his troops slashing and burning across Georgia from Atlanta to Savannah — and then the Carolinas.
Sherman had forewarned that he "would make this war as severe as possible, and show no symptoms of tiring till the South begs for mercy," boasting "I can make this march, and I will make Georgia howl!"
North Idaho's Premium Waterfront Homes
Before heading for Savannah, Sherman ended a letter to the mayor of Atlanta with: "But, my dear Sirs, when peace does come, you may call on me for anything. Then will I share with you the last cracker, and work with you to shield your homes and families against danger from every quarter.
Now you must go, and take with you the old and feeble, feed and nourish them, and build for them, amid quiet places, proper habitations to shield them against the weather until the mad passions of men cool down, and allow them in peace once more to settle their old homes at Atlanta."
Then the tragic March to the Sea began.
During the six-week rampage, the Union forces destroyed military and industrial targets, torched homes and businesses, stole food and livestock, and wrecked the infrastructure — especially the railroads vital for Confederate supplies — heating and bending each rail over the burning wooden ties so they couldn't be used again.
But Sherman conducted his campaign as a trained warrior of his times — not as a monster. He was taught to fight, to win and get it over with.
He was not Patton saying, "Compared to war, all other forms of human endeavor shrink to insignificance. God help me, I do love it so."
Sherman said, "I am tired and sick of war. Its glory is all moonshine," he said. "It is only those who have neither fired a shot nor heard the shrieks and groans of the wounded who cry aloud for blood, for vengeance, for desolation. War is all hell."
North Idaho's Premium Waterfront Homes
Greatness and genius do not always come in traditionally neat packages.
Nassir Ghaemi, professor of psychiatry at Tufts University School of Medicine claimed in his book "A First-Rate Madness: Uncovering the Links Between Leadership and Mental Illness," that depression was not necessarily a handicap, but could generate the resilience and determined focus needed to battle tough challenges.
Winston Churchill — whose bouts with depression are well known — still had the focus to deal with Hitler; and other moody geniuses like Beethoven and Mozart could produce their incredible music.
"It is sometimes those who are seen as quirky, odd or with a mental disorder that show the greatest leadership," Ghaemi said. "Mania enhances creativity and resilience to trauma, while depression increases realism and empathy. Churchill was a creative, resilient and realistic leader."
Though some claim that William Tecumseh Sherman was the originator of "total war," he was not. The Bible in Samuel 15:3 records God's order to utterly destroy the Amaleks, descendants of Esau and enemies of Israel: "Now go and strike Amalek and utterly destroy all that he has, and do not spare him; but put to death both man and woman, child and infant, ox and sheep, camel and donkey."
In World War II, both sides followed a "scorched earth" policy, such as the rape of Nanking by the Japanese, the bombing of Dresden by the Allies, Hiroshima and Nagasaki by the U.S., and Germans in Russia.
Hitler's "Nero Decree" even ordered mass destruction in Germany as the Allies closed in, but the order was ignored.
Wars are started by people and fought by the military. Sherman explained his infamous March to the Sea: "My aim was to whip the rebels, to humble their pride, to follow them to their inmost recesses, and make them fear and dread us."
North Idaho's Premium Waterfront Homes
His tactics worked. The Confederacy was indeed demoralized, and five months after Atlanta, General Robert E. Lee surrendered. The Civil War was over.
Amazing how many great personalities in world history like Lincoln and Churchill accomplished great works while suffering from mental problems. Churchill said he was constantly hounded by "the black dog of depression," yet dealt with Adolph Hitler.
Others include Ted Turner, founder of CNN, painter Vincent Van Gogh and writers Edgar Allan Poe and Leo Tolstoy.
Tolstoy considered suicide but got over it by becoming a born-again Christian.
In Hollywood: director Francis Ford Coppola, Mel Gibson, Vivian Leigh ("Gone With the Wind"), Burgess Meredith ("The Penguin" in TV's "Batman"), Marilyn Monroe, Frank Sinatra, Britney Spears, Catherine Zeta-Jones and many others.
Idaho too had its talented celebrities who were tortured with depression.
In 1962 at age 16, actress Patty Duke of Coeur d'Alene won an Academy Award for Best Supporting Actress for her role as Helen Keller in "The Miracle Worker." Later she wrote best-selling "Call Me Anna," telling the world about her long-kept secret of being bipolar.
Sadly, in 1961 at his home in Ketchum, Idaho, the great writer Ernest Hemingway could not deal with his depression and took his own life.
In Coeur d'Alene, Sherman Avenue is named after a historic American general who, though deeply flawed and wracked with contradiction, still helped end our nation's most anguishing war.